The Big Check Up - Dentistry in Salford
The 'Big Check-Up' is our new project looking into dental matters following daily feedback from Salford residents as well one of the outcomes from our Priorities Survey 2021.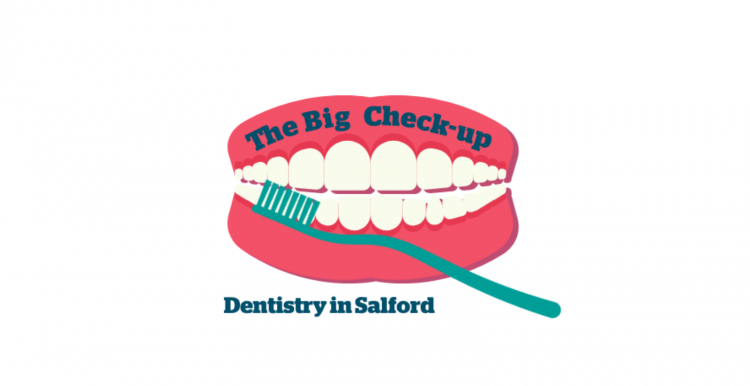 By working with a group of volunteers and some dental professionals, we have launched this project to look at 3 specific themes:
Access - identifying how many people do and do not have a dentist.
Experience - what is the patients experience like for those who have attended a dentist.
Self-care - what do people do to look after their own teeth.
Our project aims to gather insight to help providers and commissioners understand some of the barriers that people face when trying to look after their teeth.  The data gathered from the project will culminate into a report which will be presented to providers and commissioners and published later this year.
Access to dentistry has continued to be a challenge for many patients in Salford, which has been exacerbated further by the impact COVID-19 has placed on practice. Therefore, to understand the impact further, we are conducting a research programme, co-produced with patients to gain further insight into the areas such as access, experience and self-care. The findings will be used to influence both our colleagues and those within Greater Manchester to ensure we have a system that place patients at the heart of care.
How can people take part?
Online Healthwatch Community Forum – focus on dentistry
Join us at our next Community Forum on Tuesday 28th September 1pm to 3.30pm whereby we will be talking about dental matters in Salford. 
Click here to register and we will send you the joining details for Zoom.
Survey
This survey is now closed.
Patient story
Would you be happy to have a chat with us over the phone about your experience under any of the 3 themes above?  Get in touch with us by one of the ways below and a member of our team will make arrangements to call you back.
Focus group
Do you run a community group within Salford, and would you be happy for us to come along and chat with your group members around this project, running a tailored focus group to gather valuable insight?  Please contact us on one of the ways below if interested.
Display poster and flyers
We have produced a poster and flyer to encourage people to take part in the survey and welcome any opportunity for organisations to come forward and help us share this message with their customers/members.  If you think your organisation can help to display these tools, please contact us below.