Can you help us understand people's attitudes to vaccination in Salford?
There is still a large percentage of the population yet to receive their first COVID-19 vaccination dose. We want to hear your thoughts on receiving the vaccine so that we can identify any areas of concern for local people.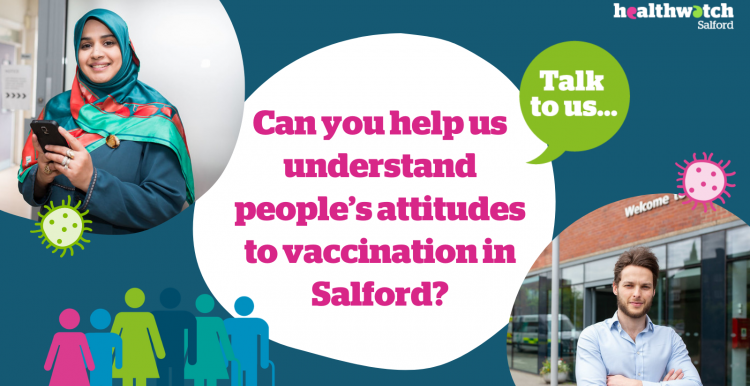 As the COVID-19 pandemic rolls on, increasing attention is placed upon the role of vaccines to reduce the impact of coronavirus. The Salford NHS vaccination programme began in December 2020 and has now successfully vaccinated the majority of Salford residents within the eligible cohorts, using both the Pfizer and Astra Zeneca vaccines.
We want to hear the views of people who are yet to receive the vaccine. By anonymously completing a short online survey, Salford residents will help Healthwatch Salford to advise local health and care services where the vaccine communication is working well, and help those services understand any concerns that people may have against it.
Survey responses will be shared anonymously with local organisations to help identify areas where things could be improved. Responses will also be shared with Healthwatch England who will be providing feedback to the government on how the vaccination programme is working nationally.
To complete the survey, click below:
Or contact Healthwatch Salford:
 0330 355 0300