Welcome our new Engagement Officer, Holly
We're really excited to welcome Holly Mansoor to our team here at Healthwatch Salford. Her role will be an Engagement Officer, working on the Living Well project in Salford.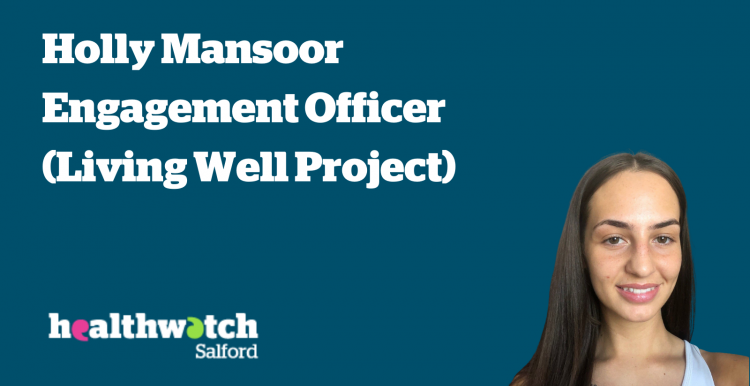 Holly has recently completed a degree in Psychology and Criminology, alongside this she also worked part-time in retail for nearly five years. Whilst in her spare time Holly has also volunteered at a homeless charity for four months providing company and food to the homeless.
From February 2020 until June 2021 she has also volunteered at Community Led Initiatives, providing support to ex-offenders who had just left prison to rebuild their lives and support alongside a variety of things from jobs to healthcare and CV building.
I wanted to work for Healthwatch Salford as the job role required me to have skills in which I felt I had picked up whilst within my volunteering role. The values Healthwatch Salford have are things I find very important, approaching all people and making sure we celebrate diversity is something I am very passionate about. Empowering people and giving them a voice, I find very important to ensure services are the best they can be.
Holly is really looking forward to hearing peoples experiences of the Living Well project and how this has benefited them. She is also excited to meet new people and organisations in Salford, working together to ensure those struggling with their mental health can get better support, as she knows this is something which can be overlooked.
Outside of work Holly likes to go to the gym as this keeps her active. She also enjoys spending time with her family as she has four other brothers and sisters, who all keep her very busy!
There are so many support networks and organisations in Salford I never knew about before starting Healthwatch Salford so I am excited to get to know more of these!
Would you like to share your experience of mental health services in Salford with Holly? 
You can get in touch with Holly to discuss this further by either phone or email:
holly@healthwatchsalford.co.uk
0330 355 0300