Youthwatch Salford – empowering young people to have their say on health and social care
Healthwatch Salford want to find out what it's like to access health and care services as a young person in the city. With the launch of Youthwatch, young people are invited to take part in a range of activities to share their views.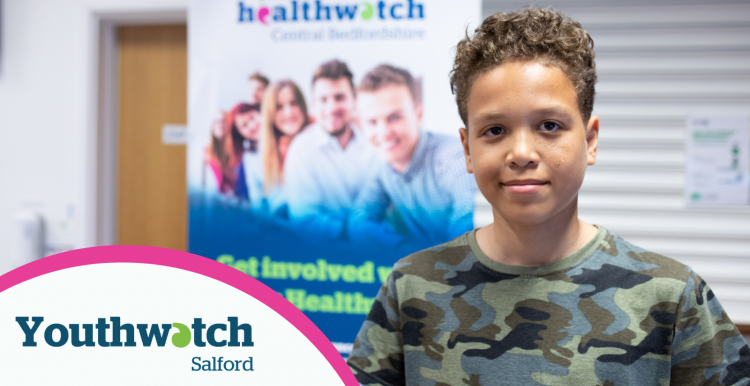 Healthwatch Salford will work with 13–18-year-olds through Youthwatch activities. Young people will have the chance to share their experiences and ideas for how services can cater to this age group, which Healthwatch Salford will pass on to commissioners and providers in Salford.
It's really exciting that Healthwatch Salford are encouraging young people to speak up about their experiences. Regardless of how much a young person has used services themselves, we want them to share what they and their peers think about health and social care in Salford – how services can work best for them.
Who can take part in Youthwatch activities?
Healthwatch Salford want to hear from young people aged 13-18 who live, study or use health and care services in Salford. Activities will fit around study and work schedules and all Youthwatch opportunities are short-term, so young people can decide how much they would like to be involved. 
I want to get involved in Youthwatch – what will I be doing?
You will be giving Healthwatch Salford your feedback on different aspects of health and social care: how confident do young people feel making an appointment? What would put you at ease in a hospital environment? How easy is it to find support for your mental health online?
We want you to give us your general feedback and we will invite you to take part in activities that focus on specific areas too. You will participate in surveys and workshops on topics like GP services, dentists, children's mental health services and more. Your involvement in these activities will directly contribute to our reports and by sharing what you think, professionals in the health and care system will be better equipped to ensure services are young-person-friendly.
Want to get involved?
Get in touch with Scarlett, our Volunteer and Involvement Officer and she'll let you know about the next steps.
0330 355 0300
volunteer@healthwatchsalford.co.uk
Consent: I agree to my personal data being used and stored by Healthwatch.