Healthwatch Salford supports International Day of People with Disabilities
The International Day of People with Disabilities (IDPD) is a United Nations-led day of recognition promoting the rights of people with disabilities in all areas of society.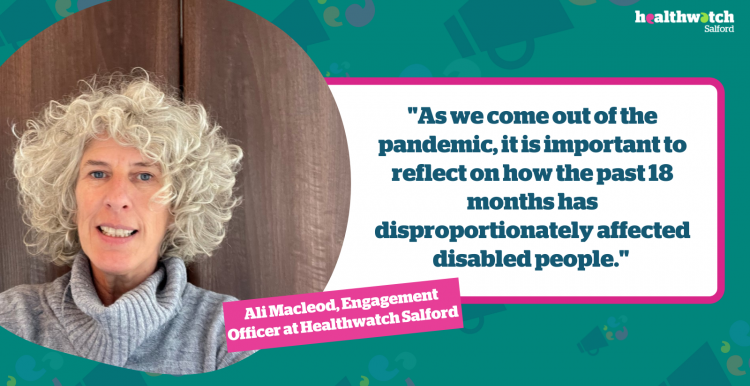 The awareness day takes place every year on 3rd December and has done since 1992, with the aim of increasing the awareness and wellbeing of disabled people in all aspects of their life.
The theme of this year's International Day of People with Disabilities is "Leadership and participation of persons with disabilities toward an inclusive, accessible and sustainable post-COVID-19 world." 
Here at Healthwatch Salford it is our mission to ensure the city's health and social care services are fit for purpose - and this means inclusive and accessible for all people with disabilities. Not only is this important to us as an organisation, but it means a lot to our colleague, Engagement Officer ​ Ali Macleod, who has direct experience of living with someone with a disability, and saw how important inclusivity and accessibility was throughout the pandemic. Ali is passionate about how we should learn from it. 
As we come out of the pandemic, it is important to reflect on how the past 18 months has disproportionately affected disabled people. Whether that be delays in treatment and therapies with less access to essential equipment, a lack of carers resulting in a complete loss of independence, or mask wearing affecting those who lip-read. Now leaders need to listen to disabled people to find out how to make things better, and to make services more accessible. I am the parent of a young person in a wheelchair, and I know the daily battles she faces trying to access buildings, transport and health services that other people take for granted.
Ali went on to say: "Here at Healthwatch Salford, we will always use the experiences of the public to try and improve local health services, so that we can raise awareness nationally of the issues being faced in Salford, and that goes for anyone with a disability who has a lived experience to share."
Thankfully, there is good work being done in the city as reflected by a recent project which won an award for its efforts: the learning disability teams from NHS Salford Clinical Commissioning Group (CCG) and Salford Royal NHS Foundation Trust worked together with Salford Primary Care Together and GP practices across the city to identify every person in Salford with a learning disability and offer them the vaccine. 
This project has recently been named 'Inclusion Champion' at the Greater Manchester Health and Care Champion Awards, which you can read more about here.
Ben Andrews is Managing Director at Salford social enterprise Beyond Empower who works to make places accessible to enable disabled people to keep active. Ben also feels passionately about this subject and talks about why this year's theme is so important.
Disabled people have the greatest insight into what makes the world an inaccessible, exclusive place for disabled people. Having disabled people in leadership and participatory positions enables this to be shared and acted upon in the most authentic and efficient way. Doing so supports us to remove barriers, encourage inclusion and work towards the more equitable, just post COVID world we keep hearing about. Awareness days are important as a means to draw mass attention to issues otherwise potentially unheard. But awareness is nothing without action. We now need to create the opportunities to enable disabled people to access these positions and reduce the disparity between disabled and non-disabled people in these roles.
The IDPD theme this year calls on all health professionals to learn from the experiences of people with disabilities during the pandemic. If you have a story or experiences to share that can help improve Salford's health and social care services, get in touch: